Recurring flooding due to inefficient drainage during heavy rainstorms was considered a major risk for flooding of the utility basement at the New High-End 'Wing tower' in Phnom Penh Cambodia. 
The owner, Wing Bank Corporation asked HIQS Consultancy and building contractor Bitus construction company to find a solution to mitigate the flood risk and protect the critical infrastructure in the basement of the new Wing tower, to secure that the building and facilities are functional, the occupants are safe, and to ensure smooth operation at all times.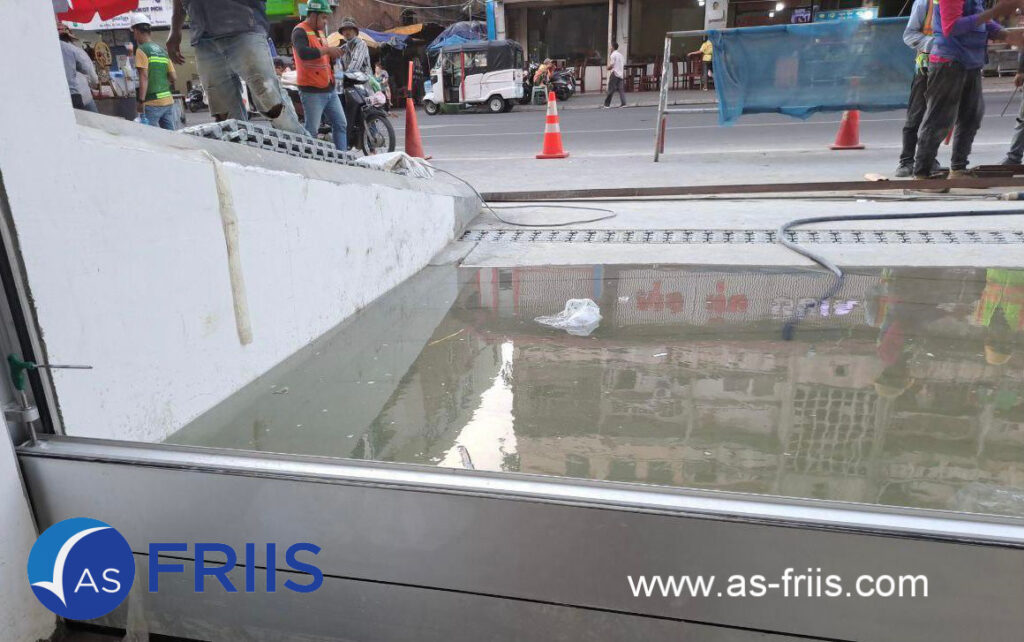 HIQS Consultancy and Bitus Construction engaged AS FRIIS as the flood protection consultants, and in cooperation with the owner and construction team, a solution was developed that suited the needs and budget. 
The solution provided by AS FRIIS was the demountable Friiva NF 100 Aluminium flood protection barrier. The customer chose this option due to the strong design allowing the barrier panels to span 4m wide without using any centre poles as well as not requiring any additional back support. The flexibility in flood protection height was also a major decision factor as the customer can install panels as they wish according to flooding heights, making it faster to install and remove. When there is no risk of flooding the barrier panels can be removed and stored away for the subsequent flooding season.
Wing Tower is owned by Wing Bank (Cambodia) Plc – the bank for every Cambodian – is driven by the vision to provide every Cambodian with convenient access to financial services relevant to, and for the improvement of their daily lives.
HIQS Consultancy is a Quantity Surveying & Construction Management consultancy, based in Phnom Penh. We formed due to the growing need in Cambodia for high quality QS & CM services for Clients.
https://www.hiqs-consultancy.com/ 
BITUS CO., LTD Construction Global Venture is one of Cambodia leading construction companies and have successfully completed many of the high-end projects in Cambodia. The projects are ranging from industrial facilities to shopping malls, office building and hotels etc. http://www.bitusenc.com/welcome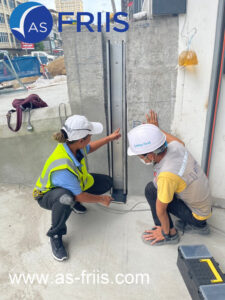 AS FRIIS LTD specialises in flood protection solutions and services. AS FRIIS LTD product portfolio includes Cold Flood Mobile wide area barriers from Denmark, Friiva Gate & Fence barriers, Dam Easy Door & Gate Barriers from Ireland, and an extensive range of accessories to protect residential homes and commercial properties and municipalities against flooding. 
Read more about the AS FRIIS Flood protection solutions here https://www.as-friis.com/flood-prevention/