Flash flooding caused by heavy rainfall is a continuous nuisance and risk for many residents in Pattaya during the rainy season. To mitigate the risk of damages to his property a local resident contacted AS FRIIS to investigate the possibilities to protect his house against flood damages, and after inspecting the property it was agreed that the best options were to install a Friiva Demount Barrier at the front entrance to the house as permanent protection during the rainy season, and a Dam Easy door barrier at the back door as it is faster to install end easy to remove during day to day activities.
What is a flash flood?
A flash flood, in short, is flooding that typically begins within 6 hours, and often within 3 hours of heavy rainfall (or other cause). Flash floods can be caused by a number of things but are most often caused due to extremely heavy rainfall from thunderstorms. Flash floods can also occur in the event of a Dam or Levee Break, and/or Mudslides (Debris Flow).
Flash Flooding is possible everywhere, even at high elevations. The normally tranquil streams and creeks in your neighborhood or area can become raging torrents in the event of heavy rainfalls overhead or even upstream of your location! Flash flooding can also occur on city streets and highway underpasses. Urban areas are also prone to flooding in short time spans and sometimes, rainfall (from the same storm) over an urban area will cause flooding faster and more severe than in the suburbs or countryside. The impervious surfaces in the urban areas do not allow water to infiltrate the ground, resulting in water running off to lower elevation areas very quickly.
Flash flooding is dangerous as it occurs so quickly that people are caught off-guard. Their situation may become dangerous if they encounter high, fast-moving water while travelling. If people are at their homes or businesses, the water may rise quickly and trap them, or cause damage to the property without having a chance to protect the property.
AS FRIIS LTD specialises in flood protection solutions and services. AS FRIIS LTD product portfolio includes Cold Flood Mobile wide area barriers from Denmark, Friiva Gate & Fence barriers, Dam Easy Door & Gate Barriers from Ireland, and an extensive range of accessories to protect residential homes and commercial properties and municipalities against flooding.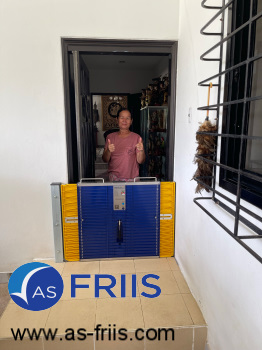 Read more about the AS FRIIS Flood protection solutions here https://www.as-friis.com/flood-prevention/